Just recently I began a new job as a private chef for some friends of mine. They wanted vegetarian meals because vegetables were lacking in their current meat and starch-heavy diet. While I wasn't looking for a private chef opportunity, I agreed because I relished the idea of preparing them healthy dinners a few times a week. I am not a strict vegetarian but for health reasons, I try to eat like one a majority of the time. This idea originated from the time we lived in San Francisco and found ourselves shopping at Rainbow Grocery Cooperative since it was closest to our place. Rainbow Grocery didn't have a meat department and didn't sell any animal products so we became accidental vegetarians for the 8 years we lived in the City. My new gig was not intimidating to me, on the contrary, I was looking forward to it. The thing is, I love vegetables and salads and vegetarian meals in general. I enjoy vegetarian cuisines from other cultures- namely Indian (both Northern and Southern)and Thai and I love the vegetable dishes from Turkey and Egypt. So I began writing menu ideas, looking at my old restaurant notes for  ideas and consulting some of my favorite old magazines and cookbooks.
It dawned on me that I already had a vegetable idea that I'd been using for a long time. In fact, it's one of my VERY favorite ways to prepare vegetables- It falls under the category of Combination Cooking- where you use two cooking methods for one dish. In this case, I steam and saute the vegetables all in the same pan. I didn't originate this technique, I first learned about it from Jacques Pepin and I recently saw it highlighted in Saveur magazine. I love it because when you think of the word 'technique', you imagine a procedure that can apply to many things. This technique really can be applied to many kinds of vegetables.
The method goes like this- you place washed and prepared vegetables into a large, flat saute pan, preferably not non-stick. Add some water, a splash of oil or even a tablespoon of butter along with a sprinkle of salt. Cover the pan and bring the water to a boil. At this point, you use your sense of hearing and listen to the pan- it should sound like water is boiling. After a few minutes, you remove the lid to allow the water to evaporate. As the water disappears, the vegetables will begin to sizzle and this point, you stir it around and saute it until the vegetables are cooked to your desired texture. Viola! It's done.
I have used this technique on all kinds of vegetables- roots like carrots, turnips, rutabagas, crunchy vegetables like green beans and brussels sprouts  and leafy vegetables like kale, collard greens and chard.  This technique is very basic and can be modified based on your personal tastes. For example, instead of water, you can use stock; you can use both olive oil and butter, you can even add a sprinkle of sugar to root vegetables to bring out their natural sweetness and glaze the vegetables. Balsamic vinegar or a squirt of lemon juice is great when added at the end to bring out bright flavors, and soft herbs like parsley, chervil, cilantro or chives add freshness. Dry fruits like cranberries, currants or raisins and nuts like almonds and walnuts are terrific additions to the plain vegetables too.
Here are some ideas of vegetables that have been cooked with the 'Steam/Saute' technique.
Green Beans- Put red pepper flakes, chopped onions and minced garlic to the beans so they cook together. Add pureed canned tomatoes and a can of chickpeas to the cooked beans and simmer a few minutes to bring the flavors together.
Carrots- Put sliced red onions and butter to the raw carrots. Once the carrots are cooked, add balsamic vinegar and stir as you saute the carrots so the onions caramelize. Add chopped kalamata olives or feta along with chopped Italian parsley.
Lacinato or Dinosaur Kale- Add sliced raw onions along with the raw kale so they cook together. When it's finished, add fresh Meyer lemon juice, lemon zest, golden raisins along with extra virgin olive oil.
Here are some photos of the different vegetables I've prepared using the Steam/Saute technique.
Green Beans with Ground Chicken, Kalamata olives, oregano and lemon zest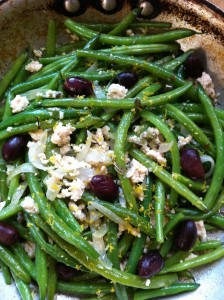 Kale, Meyer Lemon and Onions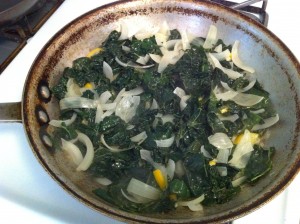 Carrots, Turnips and Fresh Sage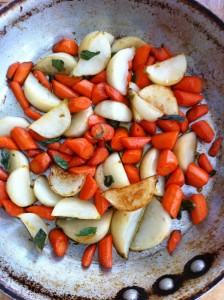 Green Beans, Chickpeas, Tomatoes and Garlic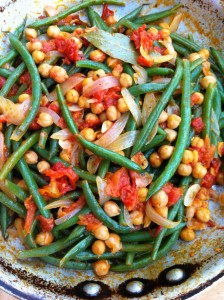 Here's my technique for a make-shift lid for my saute pan: just use another saute pan of similar size as a tight-fitting lid.