Who is Samantha Food Geek
So here is my first post for my blog, Samantha FoodGeek. But I feel I must confess: I'm not the most enthusiastic blog-reader myself. In fact, I have only recently started following AND reading a small handful of blogs. This idea of Samantha FoodGeek as a blog really came about through friends and family who felt my enthusiasm and knowledge of all matters of food needed to have a presence on the web. This is a long way from where I began. Prior to this, I was a culinary teacher at a vocational school, and prior to that, I worked in a restaurant as a line-cook. I took a break to have a baby and now that the 'babyGeek' is a toddler, I needed to think about work again. Going back to being a line cook wasn't a realistic option for me and yet I knew I had to be involved with food in some way. As a favor to friends, I started giving cooking lessons from my apartment in the City while my husband took the baby out for a couple of hours. I knew I loved to teach, in fact, wherever I worked, it was my job to pass on my knowledge to my coworkers. If I can do that in the restaurant world, I thought, why not here at home and why not on the internet too?
Why should you read my blog? I'm not for everyone admittedly, but I do have an audience. I hope you'll read on because you want to be a better home cook. I'm not a writer or journalist. I am just someone who has worked in the food world extensively who also happens to be very curious about all aspects of food and love sharing this with everyone. I do give cooking classes from my home. Please see my course offerings here. My mission is to instill confidence in home cooks to rely on their skills and palate to make delicious, wholesome food for themselves and their friends and family.
Whenever I hear someone say they don't know how to cook, I feel sad because I think cooking is such a fundamental skill in life. So I hope I can help you be a better cook. While it's not my motto, I'd like to share a quote from one of my favorite cooking teachers, Lidia Bastianich, restauranteur, author and host of Lidia's Italy on PBS. She says, "I want everyone to know they can cook, it's an innate part of being human." Amen.
Acknowledgements and Thanks: This website would not exist if not for the supremely gracious effort of Jun Belen of blog.junbelen.com and Dennis Allio of Sagewebworks.com. They both took on the task of creating this website along with the endless brainstorming sessions, photo shoots and tutorials on how to use WordPress, all the while answering my numerous questions with patience. Thanks also to Enrico Limcaco for leading the graphic design creation we used on this website  and for planting the seed in my head about creating SamanthaFoodGeek. Lastly, many thanks to Husband-Geek for his unwavering support, never-ending enthusiasm and iron stomach.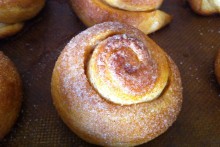 I have been in the US for more than thirty years now, arriving when I was six years old. I am wha…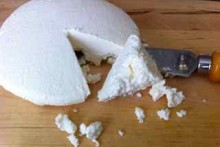 This is one of the easiest cooked cheeses I have ever made and I am excited so share this with yo…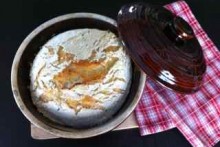 I recently bough a Mar-Crest Daisy Dot Ceramic Baker (http://www.mar-crest.com/pictures.html) dur…
Read more D.I.Y. Artisan
Yes, I know. It's been quite a while since I've written and posted anything. I always have so ma…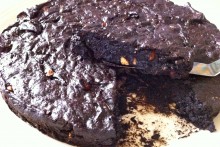 Brownies are definitely my favorite way to eat chocolate but it was something I rarely made. That…
I've been thinking about Julia Child lately. It began when I was perusing my cookbook library and…
Read more Cooking from Pantry
I am a mother and I am a professional cook. It's a source of pride for me when my kid eats the fo…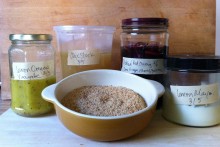 Every Monday I go grocery shopping. And every time I come home, I am faced with the prospect of p…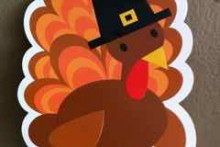 The Halloween decorations have been put away and we found a new hiding place for the leftover Hal…
Read more Geek vs. Food