Posts Tagged 'Cooking Courses'
Besides your hands, a knife is the most important kitchen tool. Be a more efficient home cook and master some knife skills with different kinds of knives. Besides mincing, dicing and slicing, learn other valuable knife cuts to expand your repertoire. Also learn how to select and care for your knives.
Read more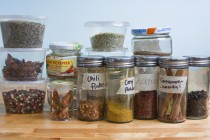 Learn how to shop for ingredients in your grocery store and stock your pantry so that you will always have something delicious to eat. You will learn the important ingredients you should have in your refrigerator and pantry and learn some simple and fast meals.
Read more