Posts Tagged 'carrots'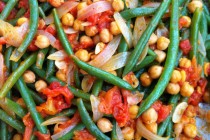 Just recently I began a new job as a private chef for some friends of mine. They wanted vegetarian meals because vegetables were lacking in their current meat and starch diet. While I wasn't looking for a private chef opportunity, I agreed because I happen to like my friends and they have a little boy that plays with my son. In short, I care about this family and I relished the idea of preparing them healthy dinners a few times a week. I am not a strict vegetarian but for health reasons, I try to eat like one a majority of the time.
Read more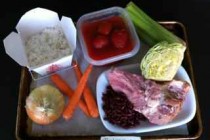 Contrary to what Campbells and Progresso would have you believe, homemade soup is not time-consuming to make. I always believed it's one of the easiest and cheapest meals to put together and far healthier than those soups in a can. The 'economical' factor comes in to play when you look to the contents of your pantry, refrigerator and freezer and make a soup from that.
Read more