Posts Tagged 'Worcestershire sauce'
Yes, I know. It's been quite a while since I've written and posted anything. I always have so many different tasks that writing always gets pushed further down my 'to-do' list. There have been many changes in my life as of late. My child has started school, I'm in a new phase of my culinary career and more importantly and much more recently, my father passed away. It's been four months since his passing and life is slowly finding a new rhythm. My father's death wasn't a surprise or a sad tragedy. He was ninety-one and had lived nine of those years in a diminishing state of dementia as a result of his stroke.
Read more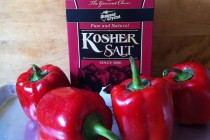 I don't know if it's because I'm Filipino that I love condiments so much. I remember as a child setting the table for meals and getting out the bottles of condiments that my parents prefer and setting it by their places. For my father: Kikkoman soy sauce and Worcestershire sauce, for my mother: Tabasco and fish sauce. It was from my parents that I learned to adjust the seasonings of my food with various sauces. So I guess it stands to reason that our refrigerator looks like the condiment aisle of a grocery store.
Read more