Yesterday evening was one of those busy days of me driving from one appointment after another. I was a bit frazzled more than usual since a San Francisco taxi cab nearly collided with my car..I'm convinced my car is invisible and I should get it Bedazzled or painted orange to be noticed. But I digress. I found myself in my kitchen with the husband and toddler at home earlier than usual and no dinner made. On nights like this, I always make a giant fried rice with the protein and vegetables all mixed in or I make a pasta with a 'sauce' made from whatever I have in my pantry.
This night in particular we wanted something light as a break from all the indulgent food we ate at our Christmas Open House. I set about bringing a pot of water to boil on the stove while I rummaged the pantry and fridge- I found a couple of tins of skinless, boneless sardines in olive oil, a shriveled but usuable lemon and some parsley. As the pasta water came to a boil, I took out my large saute pan, put a splash of olive oil in it along with a pinch of crushed red pepper flakes and slivered garlic. I turned the heat on very low. Then, I washed the parsley, picked the leaves and chopped it coarsely. Next, I took out my Microplane grater and grated some lemon zest on top of the parsley. I opened the cans of sardines. There. My mise en place was all set. As the water for the pasta came to a boil, I added the kosher salt and the pasta. I increased the heat on the saute pan so the garlic and pepper flakes sizzled and became fragrant. When the pasta was al dente, I fished out the pasta with my tongs and added it to the saute pan along with the fish, parsley and lemon zest. I added a splash of extra virgin olive oil and squeezed the juice from the zested lemons. I tossed this mixture a few times to incorporate everything and dinner was ready! I didn't time myself, but I managed to get dinner on the table in about 20 minutes. This recipe is a favorite of mine because the 'sauce' was assembled while the pasta water came to a boil and didn't require any additional cooking. I didn't originate this recipe but I've read a lot of different recipes so I may have encountered it in the past and simply kept it in my recipe list in my mind. I was thrilled to hear this 'recipe' cited by Sam Mogannam, the owner of Bi-Rite Market in the Mission District in San Francisco as a favorite dinner when he was on KQED Radio's Forum program.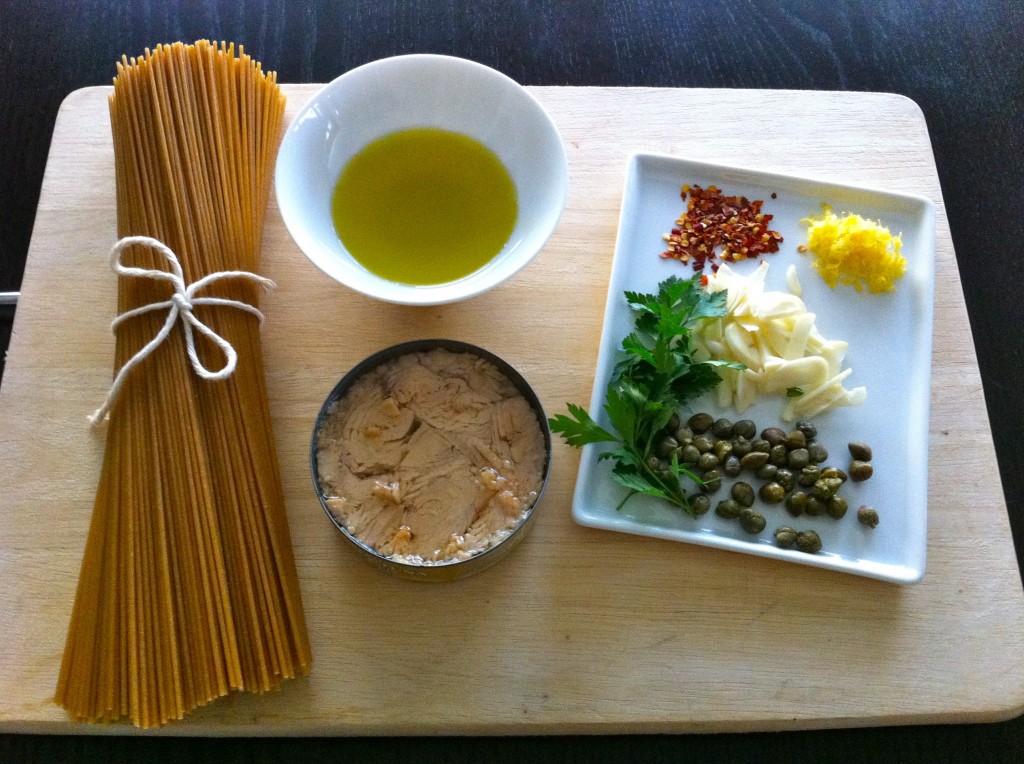 Spaghetti with Tuna, Lemons and Parsley
1 Pound Long Pasta
2 5-ounce cans of Tuna or Sardines
1 Lemon, zested and juiced
2-3 Tablespoons flat-leaf parsley, chopped
Black Pepper and/or Red Pepper flakes
2 medium garlic cloves, thinly sliced
Extra-virgin olive oil
Notes-
You can use canned tuna or even salmon instead of sardines. Make sure the salmon and sardines you buy are boneless otherwise you can simply pick the meat beforehand and add it to the pasta.
Long pasta is my preference for this but you can certainly use short pasta like penne, rotini or farfalle.
The flavorings for this recipe can vary- I used lemon, black pepper and red pepper flakes but you can use whatever you have in the pantry like capers, chopped olives or even a small handful of arugula. Don't add too many ingredients though- simplicity is what makes this pasta so delicious.
For an extra flourish, serve your pasta in bowls that have been warmed with the pasta water. Simply ladle some pasta water into the bowls while the pasta is cooking. When the pasta is finished and ready to be plated, drain the water from the bowls, dry it and put the pasta in the warm bowls with a pair of tongs. (This tip is from the lady who taught me to cook pasta- Lidia Bastianich)
Procedure:
Cook the pasta according to the instructions on the package.
While the pasta water is coming up to a boil, put the garlic, red pepper flakes and olive oil into a saute pan and let it heat slowly until you can smell the garlic. Turn off the heat and set aside.
When the pasta is al dente, drain and add the pasta to the saute pan along with the black pepper, canned fish and lemon zest along with a few splashes of olive oil, lemon juice and chopped parsley. Toss to coat the pasta and break up the fish. Adjust seasonings. Serve immediately!