I love reading. Books and magazines mostly. I DO make some exceptions for a couple of blogs that I happen to like. But I am mostly a Luddite when it comes to reading. I like words on paper and don't get me to change my mind. Don't even get me started on audio books. I don't care that paper is heavy, takes up space or may cause paper cuts- there is something wonderful about handling a weighty book or glossy magazine and turning its pages. It makes me happy. With that, below are some of the main things I'm reading this month: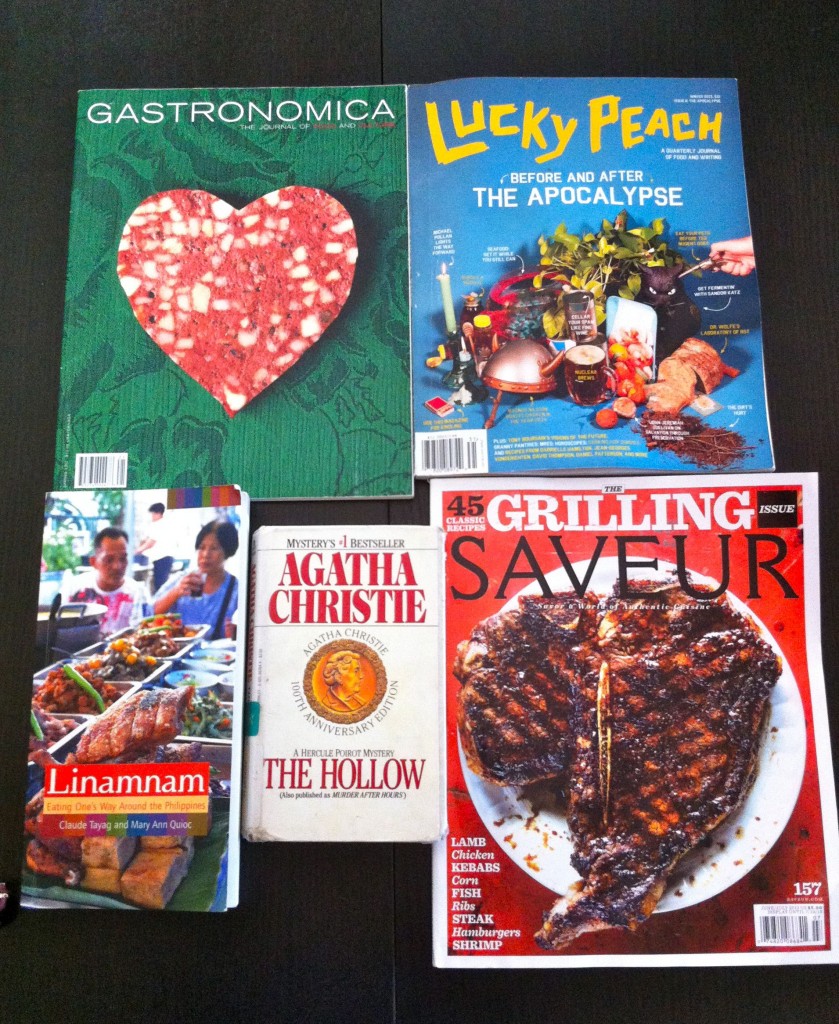 Saveur- Next to the the defunct Gourmet magazine, my VERY favorite food magazine is Saveur. This month focuses appropriately on grilling. Let me warn you- don't read this issue if you are hungry. The food photos are gorgeous and all manner of food on the grill is equally represented- even vegetables. As is typical in every issue, Saveur has food stories from all over the world. The most compelling was the article by a former Gulf War soldier who now works as a food writer. She recalls sampling a grilled chicken dish served by Iraqis and how that dish opened up her world and subsequently changed her life. Truly touching article. The chicken recipe looks amazing too. Food really is a transcendent experience.
Gastronomica- Yes, this is the Spring issue from last year but it is still on my list to read. Gastronomica calls itself a Journal of Food and Culture and it certainly is quite a read. It focuses on the many ways food affects culture and vice versa. The writers run the gamut from food anthropologists, journalists, poets and even novelists. One of my favorite articles was written by the acclaimed novelist Jane Smiley in which she describes how bread opened up her palate and made her a seasoned eater. She began eating only Wonder Bread as a child and now revels in the many types of breads available to us and even makes her own loaf for dinner. Consequently, I began reading Jane Smiley's novels based on that article.
Lucky Peach- This is the Quarterly Journal of Food and Writing from David Chang of the original Momofuku restaurant and his mini-empire of restaurants, television shows and now this food journal too. Contributors to Lucky Peach include Anthony Bourdain, Ruth Reichl, Harold McGee, Wylie Dufresne and other notables from the food world.  I consider this journal a cheeky version of Gastronomica. This month's issue focuses on the end of the world and its influence on cooking. There are serious articles on canning, beekeeping and heirloom seeds. There are also tongue-in-cheek articles on post-apocalyptic cooking- recipes for brains and homemade spam in a can. The brains recipe is because of the long-held belief that the dystopian world  will bring about zombies…..Braaaains!
Linamnam- The husband-geek and I have decided to take a trip to the Philippines next year. It's a big deal for me as I haven't been back since I left thirty-two years ago as a little girl. Suffice it to say, this trip is an important one for me, and potentially for our kid too. Throughout my childhood and early adulthood, my parents were not very forthcoming with information about our home country so I had very little information to draw from. Enter all my Filipino friends and family- many have responded very positively with suggestions of cities, monuments, and even hotels to visit. I am very excited and also overwhelmed. My friend Jun Belen of junbelen.com lent me a copy of the book Linamnam which means 'delicious' in Tagalog. The book is written by Claude Tayag and Mary Ann Quioc. Claude is known for his first book Food Tour  and has been lauded by Anthony Bourdain. This book is like a food travelogue with a guide to regional foods. The food descriptions and photos are enticing and the essays on food specialties are delightful. I read and re-read with enthusiasm the piece on Longanisa, the Filipino sausage. It was great to read all the different varieties and flavors and different names too.
The Hollow- Yes, I know this doesn't have anything to do with food. But next to food books, I love a good Cozy British murder mystery and no one does it better (in my opinion) than Agatha Christie. Nothing is more soothing to me than reading about upper-class people dressing for dinner, drinking cocktails and killing one another. And then the murder is solved and everyone is back to being civilized again. It's all very comforting!
Happy Reading and Cooking!