My life has always centered around food. It seems to always be on my mind: I have 'taste' memories like the taste of the slightly melted salted butter that my Lola (grandmother in Filipino) put on my piece of hot pan de sal for merienda or afternoon tea; I associate certain words and names with food like thinking of 'cake' when I hear the name 'Carol'. (I don't know why this is- don't ask please.) And of course, I have lots of food memories. One of my very favorite early food memories was my first cafeteria meal. I was six years old and I had just started school in Los Angeles. I was late and began the day with lunch- it was a hot dog on a spongey warmed bun served with lukewarm pork and beans. I devoured it without knowing what I ate, only that it was delicious. That was my first and only memory of my first day in school in America and it still stays with me. To this day, I have a deep attachment to hot dogs. I grew up eating Farmer John's hot dogs on bread and in my mother's Filipino spaghetti, as an adult, I had them at fast food places if I didn't feel like having hamburgers and when we traveled to New York City, I must have eaten a hot dog every time we saw a hot dog cart.  I get a twinkle in my eye when I see a Hickory Farms kiosk at the mall during Christmas. A sample of cheese-stuffed hot dog? Yes, please! Can I have another?
Hot dogs were one of the first things I cooked as a child. It was called Hot-Dog Go-Round. It was from my very first cookbook that I purchased from our school Book Fair called 'Easy to Make Good to Eat' by Martha Olson Condit.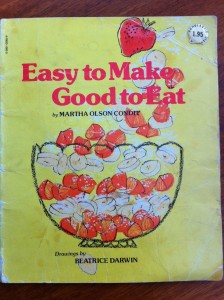 Here's the Table of Contents.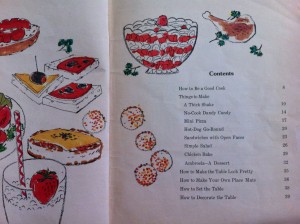 Here's where I wrote my name.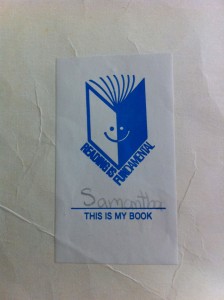 It was a very simple book with a small number of recipes that a kid would love to make AND eat. The pictures are quaint and rather sweet and it was one of my prized possessions. I cooked exclusively for me and my little brother. Of all the recipes in this book, our favorite was the Hot-Dog Go-Round because we always had hot dogs in the fridge and we never tired of them. The hot dogs were made 'round' by making small shallow cuts spaced about a half-inch apart and then baked. As the hot dog bakes, it buckles under the cut areas and becomes ring-shaped or 'round'. Ta-dah! Round hot dogs!
Fast forward to today and I find myself looking forward to the Super Bowl this Sunday and the hot dogs that I have stored safely in my freezer, along with the bag of potato chips that I've hidden from myself. Now, I'm not a sports fan, but I love any occasion or holiday that has a special meal or special food attached to it. So when I saw that the New York Jets(did I get that right?) were playing in the Super Bowl this year, I thought hot dogs would be a totally appropriate food to eat and decided that I should resurrect Hot-Dog Go-Round from childhood and share them with my toddler-geek. My little boy, naturally, is a hot dog fiend like his mama. And that suits me just fine.